Ok so I broke down and decided that I wanna return to my roots of going sideways... since 10 years of my life I raced quads and that yearning has never really left me. So after a couple of months of pondering I decided that I wanted to do this and sell my current projects so I can get back to being sideways. With that being said I looked for a couple of weeks and found this car in November 2006 on craigslist for $500. There were a few things wrong with it but nothing that I couldnt fix, it had a dent in the drivers headlight area, a large dent in the passenger rear quarter panel and an overheating issue from a neglected cooling system. Well needless to say that 95% of those problems are gone and I have had that car about 3 weeks now. Anyways here is the progress of the car since i got it, along with some pics too. I will be documenting all the progress and taking more pictures along the way



*** Current Specs as of 11/1/2016 ***


Car:
1992 Nissan 240SX SE Coupe

Car name:
Layla

Engine, Transmission & Drive Train:
Stock 2005 Pontiac GTO LS2 M6 swap
Custom motor/tranny mounts by Stealth Custom Fab
Hooker LS V8 into S chassis swap headers
Spintech 4" oval exhaust tubing and 4" oval muffler
Custom driveshaft by Driveline Service of West Sacramento
Griffin radiator with custom inlets by Stealth Custom Fab
Weld Locd version 3 welded rear diff
98-2004 Corvette fuel filter/regulator
B&M 70266 oil cooler core with Russell -10AN lines/fittings (enging oil)
B&M 70266 oil cooler core with Russell -6AN lines/fittings (power steering)
Catchcans.com Closed Loop PCV Catch Can


Electrical:
Odyssey PC680 battery
STRI DSD-SLM 60mm Oil Pressure, Oil Temp, and Water Temp gauges in a custom cluster
Sun Automotive Hyper ground kit
Entire car wiring gutted and rewired down to only the essentials by me
Stock wiring harness reworked by me
Stock GTO ECU tuned by PCM of NC
Pico Wiring 5575PT 350Amp cutoff switch
Blue Sea 5026 Fuse Block
Blue Sea Contura Marine grade switches
FAL Variable fan speed controller
1995 Nissan Altima Electric Fans
Walbro 255LPH HP fuel pump
Rebased Lexus/Phillips HID kit
LED rear signal and tail light bulbs


Exterior:
AIT Kouki S14 Conversion front fenders
Extreme Dimensions D1 vented hood and V-speed 2 front bumper
B Magic D1 Series side skirts and rear bumper (Vertex knock off)
Aftermarket Kouki S14 clear headlights and corner lights
Aftermarket Origin style Red/Clear tail lights
Dmax trunk wing
Origin rear window spoiler


Interior:
Modified driver's side floor pan with custom seat bracket to get the seat as low as possible.
Bride MO Passenger seat rail
Corbeau Forza II seat driver side (wide version cuz im a fat ass)
Recaro SRD seat passenger side
Momo Hub
Momo Mod 8 steering wheel
NRG Version 3 Slim quick release (FET Copy)
Corbeau SFI 5 point harnesses
Custom full roll cage by Stealth Custom Fab (Main Hoop bent by Blu808), using 1.5" .120 wall DOM tubing


Brakes:
• Front:
1990 Infiniti Q45 front brake calipers
Brembo Q45 X Drilled/Sloted front rotors
PBR XBR pads

• Rear:
Stock rear calipers
Brembo X Drilled/Sloted rear 4 lug rotors redrilled to 5x114.3
PBR ULT pads

• E Brake:
Wilwood DynaPro dual piston calipers and pads

• Lines:
Russell lines front
Circuit Sports lines rear
Earl's -3an lines E brake


Suspension & Steering:
Feal 441 Coilovers 8k front and 6k rear spring rate
Stitch welded engine bay by Jonnie Fraz of Stealth Cutsom Fab

• Front:
Stock S13 Hicas front steering rack swap (quicker ratio than non Hicas)
Aluminum steering column bushing
Cor Integration modified steering knuckles, roll center corrected
Battle Version weld on FLCA adjusters
Stealth Custom Fab fender braces
Cor Integration tension rods
SPL V5 pro outer tie rod ends
Ikeya Formula inner tie rods
Stealth Custom Fab prototype front strut bar
Stealth Custom Fab welded front tension rod brace.

• Rear:
Stealth Custom Fab solid subframe bushings
Stealth Custom Fab RUCA's
Stealth Custom Fab RLCA's
White Line adjustable rear sway bar
Battle Version rear traction rods
SPL - Nagisa V2 Rear toe arms
Powered By Max rear knuckles, spherical bearings, roll center corrected and dual caliper mounts.


Wheels and Tires:
S5 / Ichiba Bolt on 5 lug conversion
Enkei RPF1 17x10 +18 wheels
Front tires Federal 595 RS-R 235/40
Rear tires Federal 595 SS 255/40


Current Sponsors:
Stealth Custom Fab - Stealth-Custom-Fab.com
Endless Autobody


Alignment Specs:
• Front:
-4 degrees camber
stock caster
1mm toe out

• Rear:
0 camber
1mm toe in


Fluids:
Amsoil Dominator 10w30 engine oil
Amzoil gear oil (tranny)
Redline Power Steering Fluid
Distilled Water plus Redline Water Wetter
Motul 90PA gear oil (differential)


----------------------------------------------------------------------------------------
11/6/2006
Picked up car from Yuba City for $500 Clean Title and Drove it straight home. Here are the pics from the craigslist ad.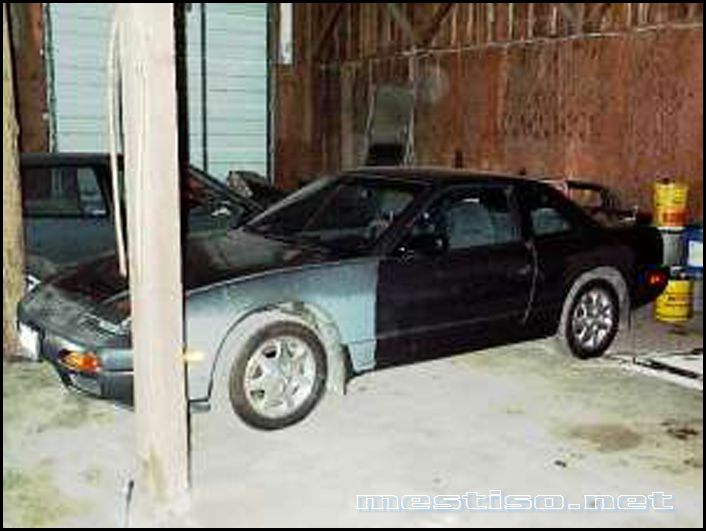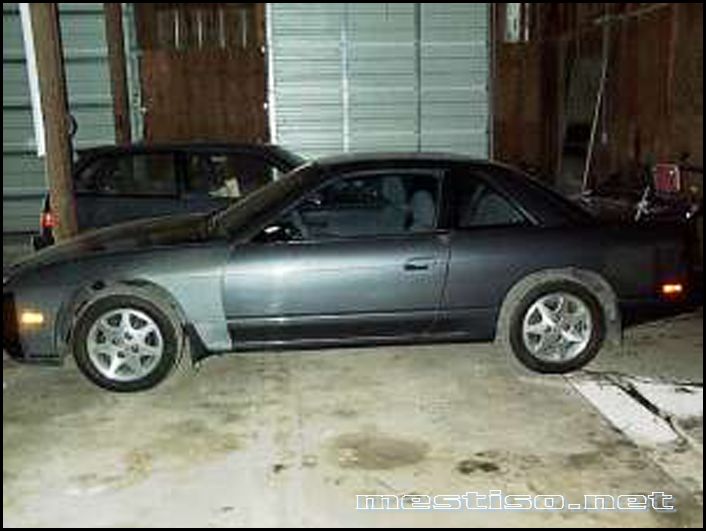 Here are the pics I took of it the night I drove it home, these show the various dents that it had.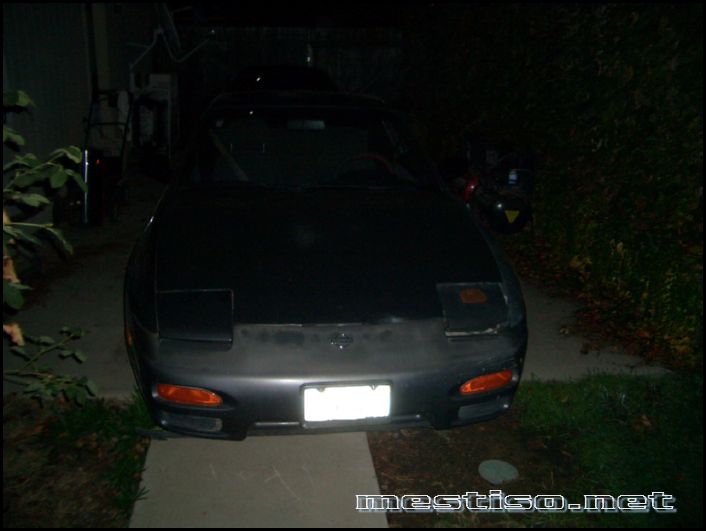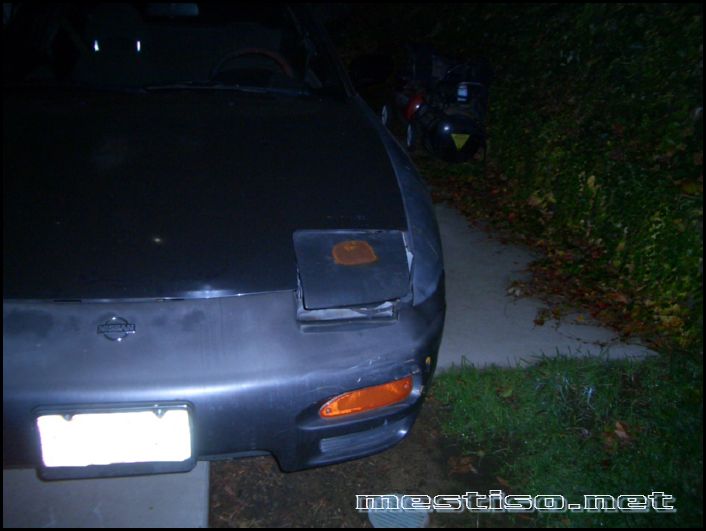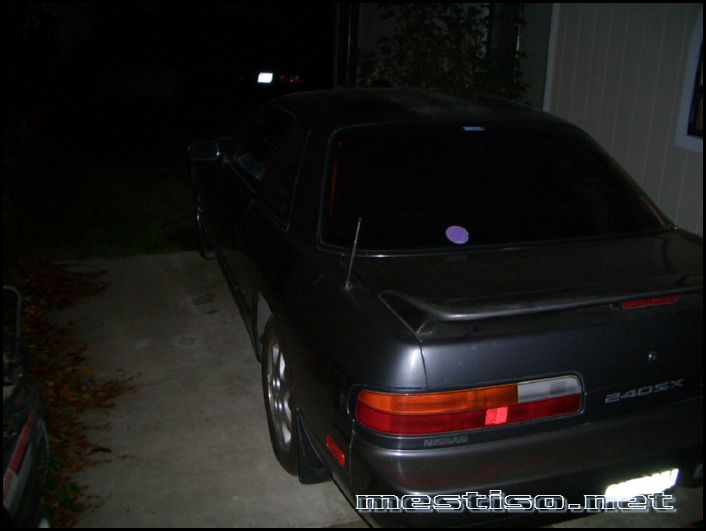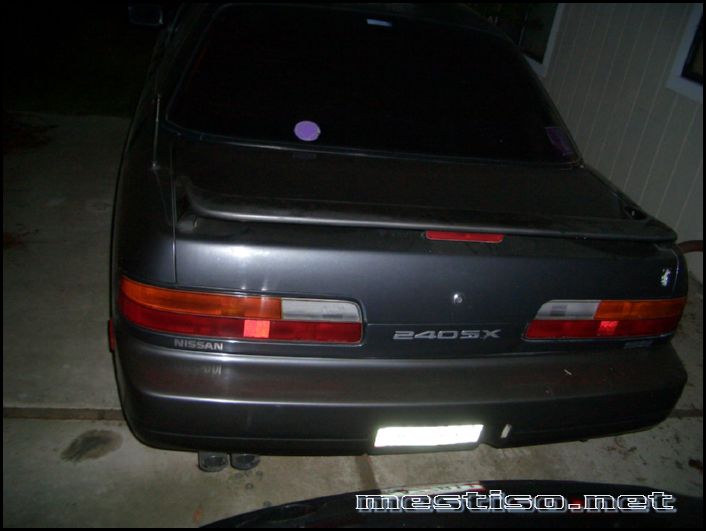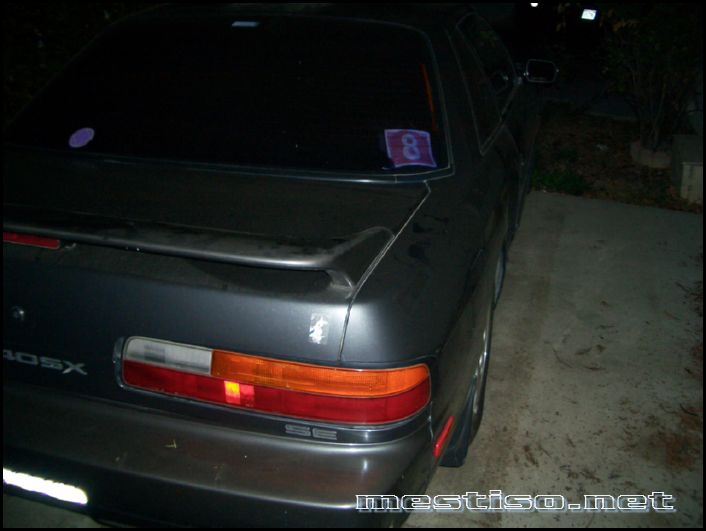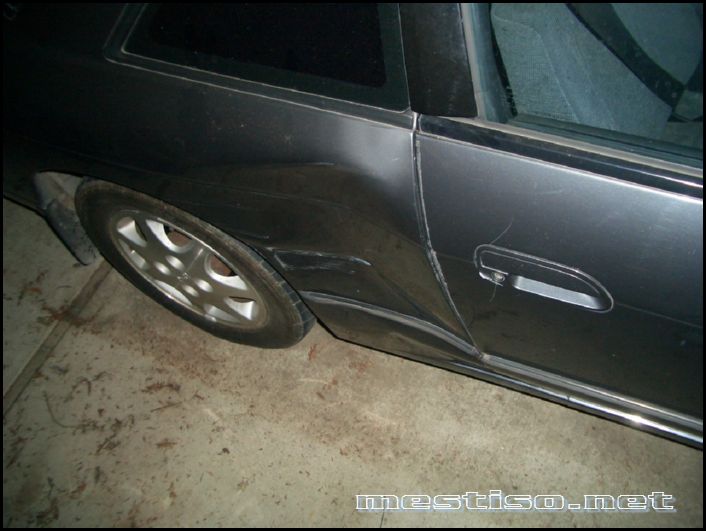 11/7/2006
Registered/payed tax on the car at the DMV. Removed all rear interior parts from car, cleaned the interior of all the stank smoke ashes and dirt. Checked tire pressure and ordered up a factory thermostat. Picked up a set of black seat covers to cover the stank seats that were in the car as well as a leather steering wheel wrap. Washed trunk floor of oil and debris, pressured washed floor mats and washed entire car.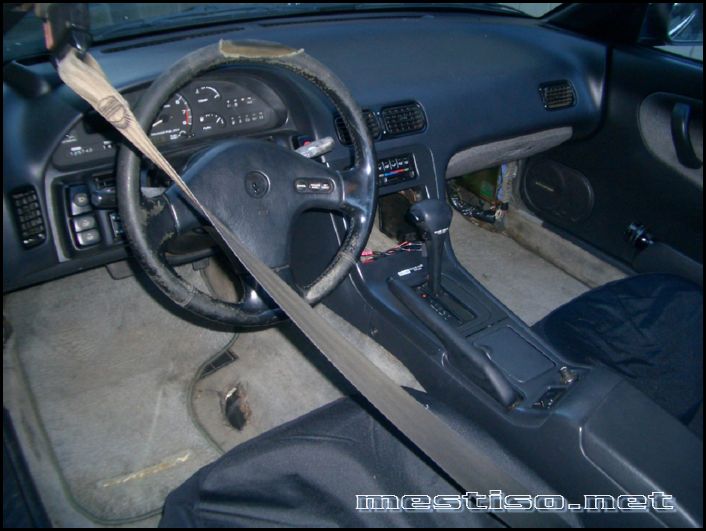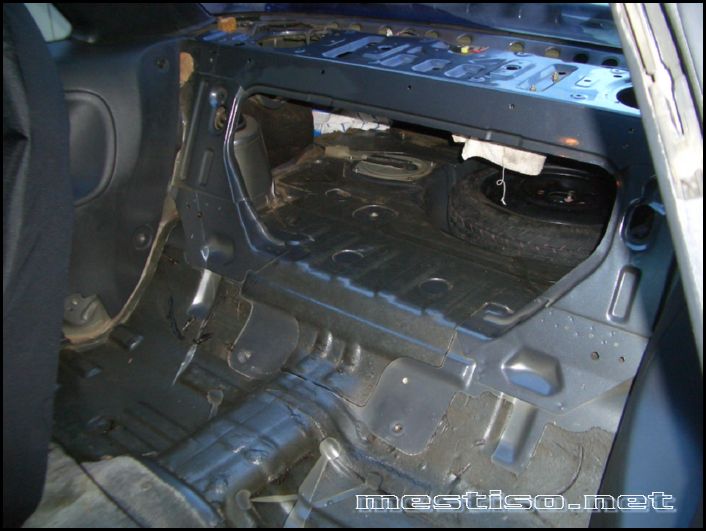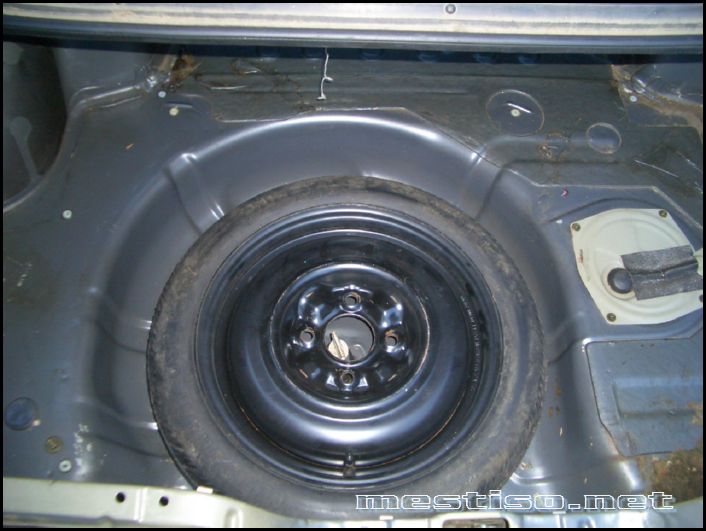 11/8/2006
Pulled the ecu and checked codes, fixed the EGR vacuum leak, fixed the power steering bolt, topped off brake fluid, bought a brand new battery hold down to fix the non existent one I had and changed the air filter.

11/9/2006
Popped large dent out on passenger quarter panel, pushed out small dent on the rear taillight area, checked/replaced all fuses, removed 80% of the faded/bubbled tint, removed fan shroud, fan/fan clutch, removed all belts, pulled thermostat and water pump.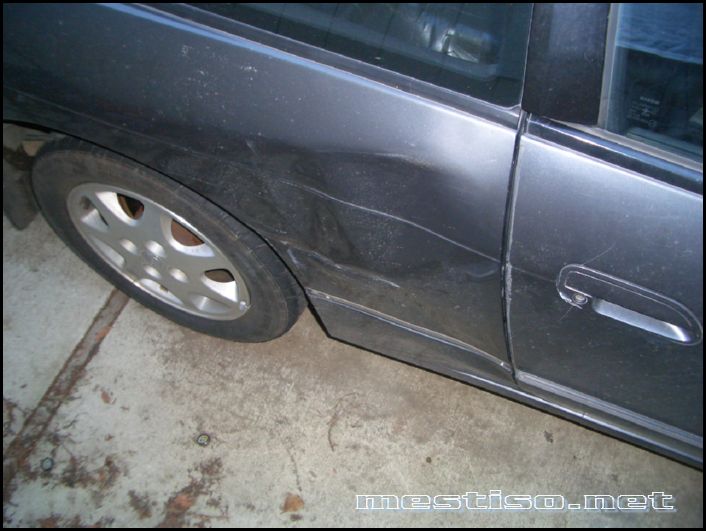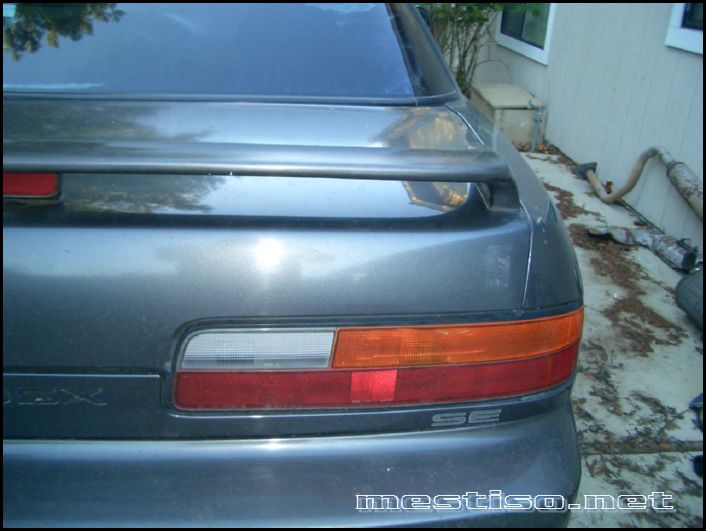 11/10/2006
Diagnosed parking light problem, removed extra wires from under the dash, flushed engine block and radiator of rust. Replaced water pump, thermostat, alt/power steering belts and radiator hoses. Found coolant leak in the thermostat bypass coolant line.

11/12/2006
Removed coolant bypass hose. Replaced with a similar hose from Kragen.

11/22/2006
Fixed dent with front headlight and core support. Here are some pics when we were using the come along to pull the core support back out and putting in the new head light bucket. The first pic is the passenger side and what the core support should look like. The light is good enough for now I could make it look better but i really dont need to since I am getting a Silvia front end.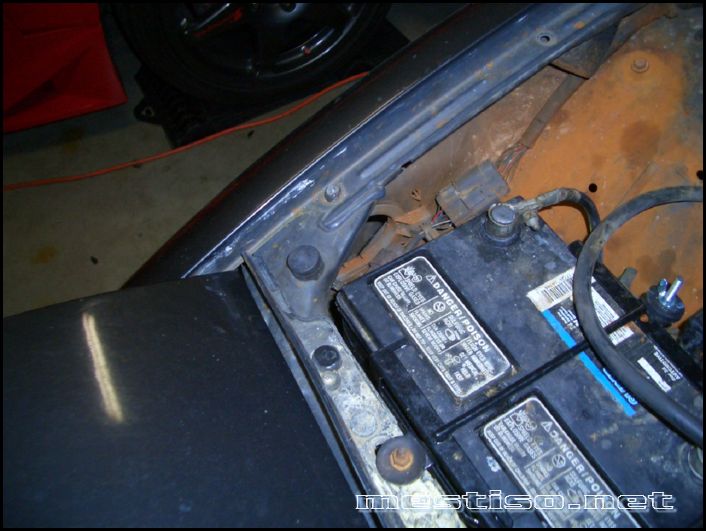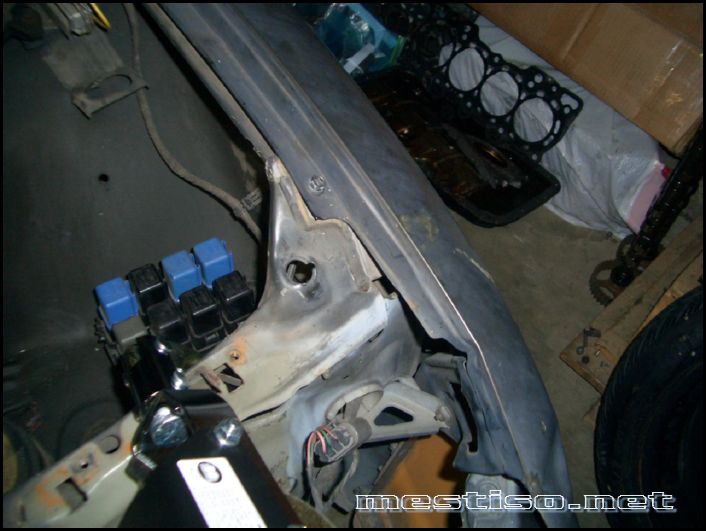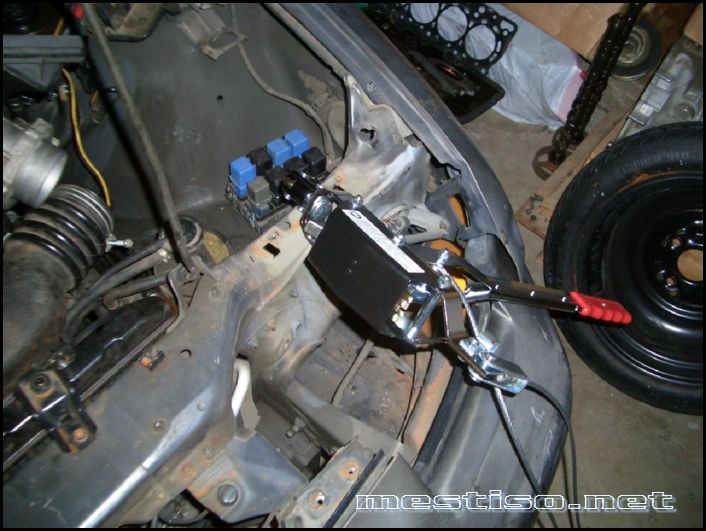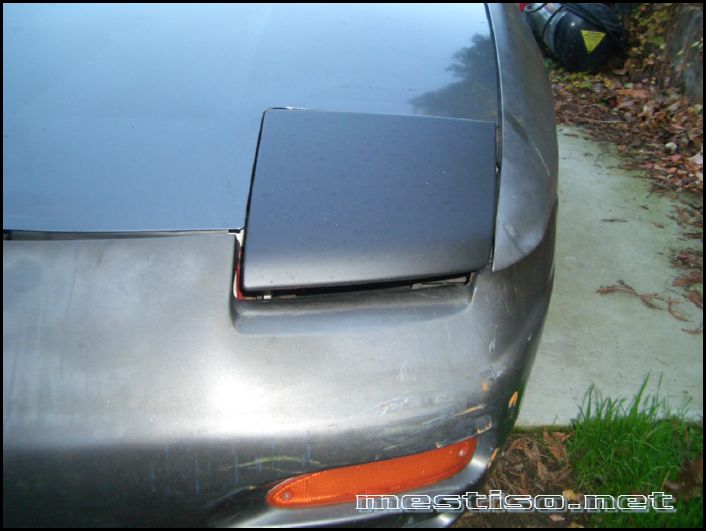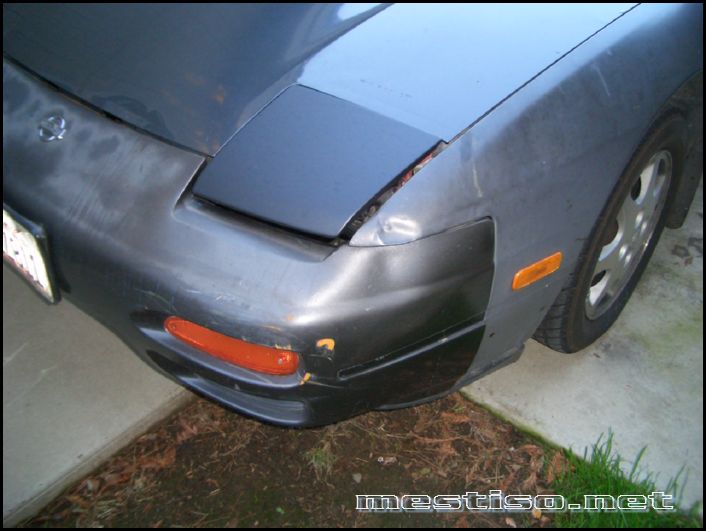 11/24/2006
Pulled the stock diff and had my dad weld it, filled with new gear oil. 1st DRIFT Happened this night!

11/26/2006
Changed engine oil to mobil1 synthetic and replaced oil filter. Purchased KTS Coilover's from SPL.


Next update will be the installation of my KTS Coilovers which will be here this friday!