Well I am pre registered for the the full track practice on Friday, only problem is I will be broke until the new year thanks to the cost of my tires, gas and entry fee. But man I want to slide the track so bad, so i can't pass this up. Anways if anyone else is interested in going/drifting then all the details are below.
QUOTE (ConePirate Nov 15 2007)
okay dudes, the moment you've all been waiting for.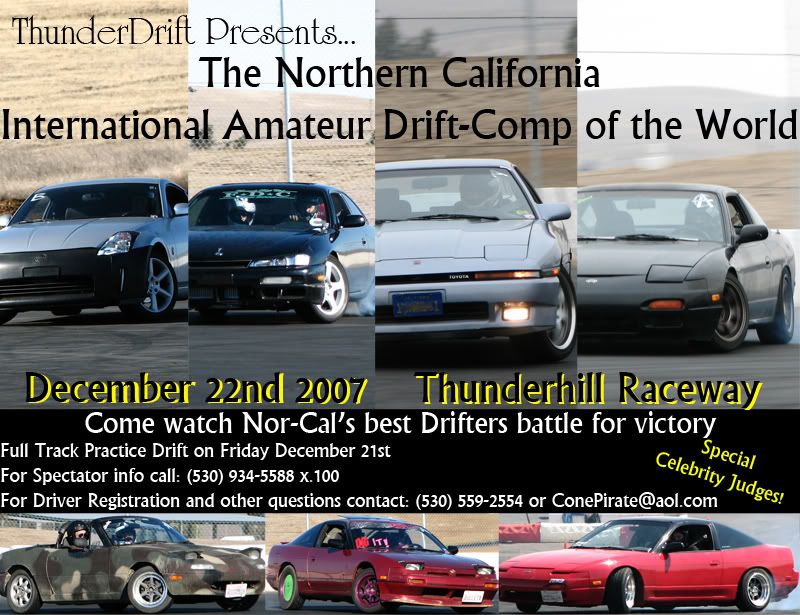 This is how the competition course-layout willl look.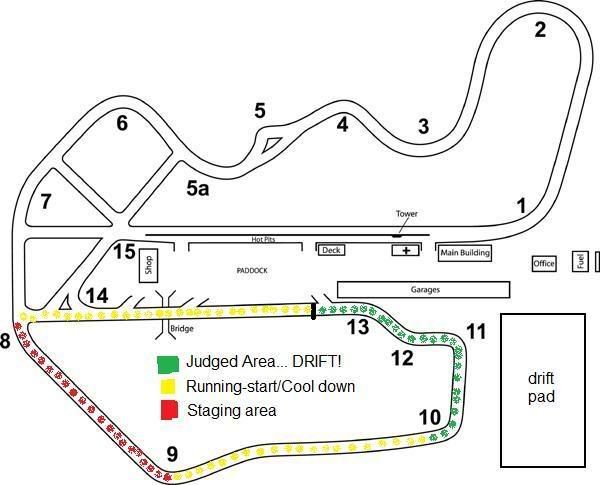 Here's the bloody details.
DECEMBER 21ST AND 22ND 2007
December 21st will be 2 events:
$100 entry = SKID-PAD DRIFT, North Paddock
$200 entry = FULL-TRACK DRIFT, No Grip! (if you drive straight, you die... hot lava)
December 22nd will also be 2 events:
$100 entry = SKID-PAD DRIFT, North Paddock
$130 entry = AMATEUR DRIFT-COMP TO END ALL AMATEUR DRIFT-COMPS
We'll have your favorite pro-drifters as judges... and all the sideways, tire-screeching, engine-revving, hardcore action you can possibly take in over 2 days.
The Deal:
Pre-Registration is a must. similarly to regular thunderdrift days, there will be a non-refundable 40% pre-reg fee for each event. This means for each skid-pad day the pre-reg price will be $40 ($41.60 paypal), Open Drift will be $80 (or $83.10 paypal), Comp will be $50 (or $51.90 paypal), and if you want to do open-drift on friday and compete on saturday the pre-reg will be $130 (or 134.07 paypal).
ANY OTHER QUESTIONS... Ask'em here, Email me at ConePirate@aol.com, or CALL ME! (530) 559-2554
-Geoff